The STELLAR Space Weather Workshop
The first Introduction to Space Weather Workshop of WP4 was held online from 12-15 July 2021. The workshop was hosted by the Dublin Institute for Advanced Studies and Chaired by Dr Shane Maloney and Dr Eoin Carley. The local organising committee also included Dr Sophie Murray and Dr Laura Hayes.
The workshop was advertised primarily to the Bulagrian community associated with the STELLAR project. Registration was via a dedicated workshop webpage (which hosts all video lectures): https://lofar.ie/stellar-sww/

Overall there were 36 registrants to the workshop, consisting of PhD students, Postdocs and early career researchers mainly from Bulgarian institutes but also other countries:
● Institute of Astronomy with NAO – Bulgarian Academy of Sciences (Bulgaria)
● Technical University of Sofia (Bulgaria)
● Naval Academy "N. Vaptsarov" (Bulgaria)
● University of Vienna (Vienna)
● Dublin Institute for Advanced Studies (Ireland)
● Trinity College Dublin (Ireland)
● Egyptian Space Agency (Egypt).
Approximately 1/3 were 3rd level students, 1/3 PhDs and 1/3 with more senior roles.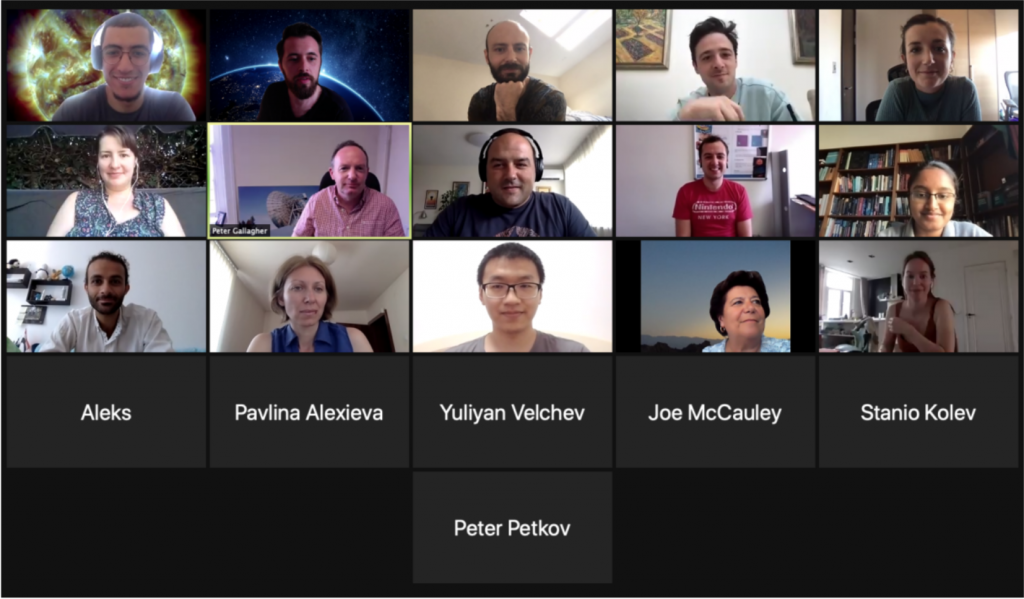 Talks and speakers:
The workshop consisted of 4 full days of lectures and hand-on sessions. Each day, there were several lectures on space weather from established researchers from the international community. The afternoon sessions each day consisted of hand-on sessions in the use of Python for space weather data analysis. While the entire workshop had a radio science focus, the lectures and hand-on session covered a variety of topics covering radio, X-ray, EUV and white-light observations of the sun, heliosphere, ionosphere and magnetosphere:

● Day 1: An overview of solar physics and space weather science including lectures on an introduction observing the Sun in X-ray and EUV. Speakers: Prof Peter Gallagher, Dr Shane Maloney, Dr Laura Hayes (DIAS).
● Day 2: Solar radio science, including lectures on solar radio bursts, solar radio emission mechanisms and a history of solar radio observing instruments. Speakers: Dr Diana Morosan (University of Helsinki), Dr Eoin Carley (DIAS) and Dr Pietro Zucca (ASTRON). Ms Ciara Maguire, Mr Pearse Murphy, Ms Aoife Ryan (DIAS).

● Day 3: Heliosphere and interplanetary observations, with lectures on white-light observation of coronal mass ejections and observing the heliosphere using interplanetary scintillations. Speakers: Prof Richard Harrison (Rutherford Appleton Labs, STFC-UK), Dr Richard Fallows (ASTRON).

● Day 4: Lectures on space weather operations, magnetospheric science and the ionosphere. The last lecture of the workshop was on the future of space weather science and observations. Speakers: Dr Sophie Murray (DIAS), Dr Laura Hayes (DIAS), Dr Caitriona Jackman (DIAS), Dr Corentin Louis (DIAS) and Dr Nicole Vilmer (Paris Observatory). The last day also dedicated 45 mins to student 'light-speed' talks in which 2 students from DIAS and 2 students from IANAO and TUS provided 8 minute talks on their research.
Throughout the 4 days there were 9 female and 10 male speakers, achieving a good gender balance.

Software repositories: The hand-on practical sessions introduced detailed concepts in the use of SunPy for space weather data analysis. It also provided an overview of professional standards in software development including the use of version control via Git and Github. All tutorials were delivered using Jupyter notebook and can be accessed by the workshop Git repository: https://github.com/TCDSolar/STELLAR_SSW_tutorials
Slack Channel: Communication and day-to-day interaction for the workshop was via Slack.

Overall, there were approximately 28 attendees of the workshop including students and researchers from the Bulgarian Academy of Sciences and Technical University of Sofia.